The North Carolina School of




Advanced Bodywork


— Student Massage Clinic —

The Students at the Student Massage Clinic at the North Carolina School of Advanced Bodywork are among the best-trained students at any school in America.
The NCSAB Student Massage Clinic is a place where students develop confidence in their assessment and practical treatment skills before graduation.
As a Client at our Student Massage Clinic, You Can …
Experience Swedish Massage:
This is your opportunity to receive excellent massage therapy from NCSAB students at a low rate of $40 per hour.
OR, Experience Myo-Structural Bodywork:
Receive specific treatment of soft tissue pain or postural distortions. Relieve chronic pain or renew range of motion. There is no pain involved in this work, in that You, the Client, let your therapist know if the pressure is too intense or unpleasant. So, even though it is very slow and very deep work, you will still be able to relax & enjoy the work.
CLICK HERE For The Differences Between
Swedish & Structural Therapy
No Pain = More GainCLICK HERE for More Info on No Pain, More Gain
Please Schedule Your Appointment by Calling:
(980) 224-8449
Our Student Massage Clinic is Open to Public:
• Fridays from 10 am to 4 pm
• Saturdays from 10 am to 4 pm
60 Minute (1 Hour – Swedish Massage) — $40
90 Minute (1.5 Hour – Structural Bodywork) — $60
120 Minute (2 Hour – Structural Bodywork) — $75
Swedish Massage Therapy:  Full body relaxation massage to relieve stress and muscle tensions.
Myo-Structural Bodywork Therapy:  The specific treatment of soft tissue pain due to injury or postural distortion.  (To alleviate chronic pain, keep athletes performing at optimal levels, to allow the body to become physiologically correct and opposing gravity properly, release muscles that are holding bones/joints out of synchronization).
Once students reach their midway point in our program and successfully fulfill their required course material they become eligible to begin their clinical experience by giving full-body therapeutic massages or specific treatment of soft tissue pain due to injury or postural distortion to the general public in our student massage clinic.
This experience exposes students to real-world situations that may come up in a clinical environment. This is a learning opportunity for the students. We ask the public to join in and be part of the student's learning process.
An intake history form will be given to each client at the beginning of their massage session which the client will complete and sign. Following the massage, an evaluation sheet will be completed by the client rating his/her massage session. This is considered a learning tool for the massage therapy student. You, their client, become a part of their educational experience.  Please be honest and give direct feedback on the evaluation form.  We consider our student clinic to be the gold of the program, where they get to practice, all on their own, with instruction just a few feet away if needed.
Students are required to perform a minimum of 40 hours in the student clinic prior to graduation.
Thank You for Checking Out Our Student Massage Clinic!
Please Schedule Your Appointment by Calling:
(980) 224-8449

820 Tyvola Road, Suite 203
Charlotte, NC  28217
***************************************************  
TESTIMONIAL:
I have had serious back pain for about 10 years. I went through the process of pain management and massages and to no avail I was still in serious pain. When I found NCSAB and visited on a regular basis the chronic back and neck and shoulder spasms subsided quite a bit. Their students listen and are truly concerned about your health and your overall feeling better mentally and physically. Thank you for helping
me with pain management and relieving stress while at your school.
Tonya Mitchell, Lancaster, SC
*****************************************************************************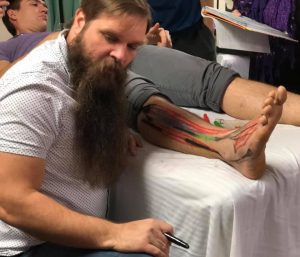 From our Kinesiology and Bodywork Instructor
at the North Carolina School of Advanced Bodywork, Charlotte, NC:
David Phillips, MS, LMBT:
For many, the idea of a massage is a luxurious and exclusive vacation treat that can cap a relaxing weekend away from the daily stresses of life. Seldom do people consider the clinical effects of bodywork and what it may offer them. Relaxation work, often referred to as Swedish massage, is a wonderful experience that possesses many health benefits to the recipient but rarely digs into the depth of musculoskeletal issues.
Clinical bodywork, on the other hand, is designed to progressively peel the layers back, often targeting a few areas of the body in a session in order to gain long-term relief. Speaking of digging, Let's dig a little deeper into what benefits await the client of a true clinical bodywork session.
Pain Relief
Probably the thing that people seek the most in health care is relief from chronic pain. So what exactly is pain? Pain can be thought of as the body's most reliable mechanism to communicate a need that is perceived as a "top priority" for the system. In other words, pain isn't necessarily negative, we just often have no solution to resolve it.
One interesting parallel here is Deane Juhan's idea that pain is the body's request for space. Without going into too much detail, this can be interpreted as the body's need for decompression. Through bodywork, releasing tension in muscles at the appropriate areas helps to release joint-based compression and relieve pressure on peripheral nerves and vessels. This results in a feeling of pain relief that can often feel constant and debilitating.
Posture
Most people in our modern times are acutely aware of how their body looks. We are also interested in how that body feels, and not just from a 'pain or no pain' perspective. Bodies must navigate gravity efficiently since we are an architectural structure. If the heavier mass that forms the joints that we move at (bones) are not stacked well, gravity forces things to the ground. This puts tremendous stress on the soft tissue around them to keep the system upright. This leads to bodies feeling heavy, lethargic, tight, lacking fluid motion, stiff, etc…
Bodywork that addresses posture allows for the system to befriend gravity once again and move gracefully and effortlessly.
Performance
For those using their body in competitive performance, improving range-of-motion and facilitating unencumbered motion is a big goal. Another that may emerge for the active client is overcoming injury. The emergence of acute injury tends to plague many for years following the trauma. There is a tremendous amount of possible injuries that may occur, and each requires a potentially different approach.
In general terms, and especially with injuries that require surgery, mobility becomes a key factor in the post-rehab return to performance. Scar-tissue accumulation and soft tissue adhesions tend to inhibit the road to optimal recovery and a skilled clinical practitioner can free these areas up to support the number of quality therapy goals already set in motion during rehab.
The perception of massage as a luxury form of relaxation is shifting quickly to include bodyworkers, whose role is essential to the approaches outlined above. If you value these goals for yourself, contact the North Carolina or Florida School of Advanced Bodywork and schedule a session with one of our student therapists or with an instructor. If you are someone who seeks to be a part of this wonderful career helping people with pain relief, posture, and performance, take that first step and call today!
David Phillips, MS, LMBT