CS1: CranioSacral Therapy 1:
Assessment of Central Nervous System and
Fascia for Full Body Treatment Protocol
CS1 October 5-8, 2023
Charlotte, North Carolina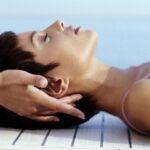 Discover how CranioSacral Therapy (CST) works with the body's natural rhythms to assist people with a variety of conditions. CST is unique — it helps identify the source and facilitates healing, leading to optimum health and vitality.
CranioSacral Therapy:
Assists in autonomic nervous system regulation to help to turn down sympathetic overdrive.

Addresses the interfaces of the musculoskeletal system and the nervous system, such as at the myodural bridge where tensions can be broadcast up and down the entire dural system.

Works with the body's fascial network to improve representation in the somatosensory cortex.
Learn from the institute named for the developer of CranioSacral Therapy –
Dr. John E. Upledger! After CS1 you will be able to immediately and easily integrate Dr. Upledger's 10-Step Protocol into your practice.
---
Call 800-233-5880, ext. 2 or 561-622-4334, ext. 2
to register or for more information.
Ask about our Early Registration Discounts!
And about getting started for just $100 a month!
---
Prerequisite: Professional healthcare practitioner, student in healthcare program
---
Click Here for a List of Upcoming CS1 Classes
EASY RESOURCES — EBOOKS AVAILABLE:
Workshop Details (SEE Below)
CEU Information | Study Groups | Online Videos
Research, Articles, and Case Studies
11211 Prosperity Farms Road, D-325
Palm Beach Gardens, FL 33410-3487
P: 800-233-5880 | 561-622-4334
F: 561-622-4771
P: 800-233-5880 | 561-622-4334 | F: 561-622-4771
E-mail: upledger@upledger.com
Website: Upledger.com
     
---
WORKSHOP DETAILS:
ASHA Transparency Statement Required for CEUs:
SPEAKER DISCLOSURE:
Financial: Teacher receives a fee for teaching this course.
Nonfinancial: Teacher has no nonfinancial relationship to disclose.
Core-Pak Seminar Series offers a substantial discount for the seminars and a convenient payment plan of $100 per month — see details at bottom of page.
 
Tuition Discount available to Full-Time Healthcare Students who qualify — call 561.622.4388 for details.
$795.00 (USD)
Pre-requisite Workshop(s):
Professional healthcare practitioner, a student in a healthcare program or graduate awaiting licensure/accreditation with experience in sensitive, light-touch palpation.
For those who wish to take CS1, and live in a state or province that does not require a healthcare hands-on license to practice CST, the following minimum study is required:
1. 80 hours of Anatomy and Physiology and 15 hours of Pathology. One way to satisfy this requirement is through the home study coursework, Upledger Health Science Essentials, http://shop.iahe.com/Product-List/All-Products/Upledger-Health-Science-Essentials, available through the London (Ontario) College of Osteopathy.
2. 3 hours of ethics, such as our video-Ethics in Action, available at http://shop.iahe.com/Product-List/All-Products/Online-Video-Ethics-in-Action, or other accredited organization program
Description:
This course will introduce you to the anatomy and physiology of the CranioSacral System through our practical hands-on "learning by discovery" method. You will learn advanced palpatory skills, fascial and soft tissue release techniques, and a concise 10-step protocol for evaluation and treatment of the entire body via the CranioSacral System. To supplement class instruction you will receive a fully-illustrated, comprehensive study guide.
Advance Preparation:
The required reading for this course is Chapters 1-6 in CranioSacral Therapy (CSTI) and Your Inner Physician and You (IPAY). Both books are authored by course developer, John E. Upledger, DO, OMM. In addition please familiarize yourself with the definitions and/or locations of the anatomical terms available at:
http://www.upledger.com/seminar_info/Terms/CSIterms.doc
The majority of these terms can be found in the text CranioSacral Therapy (CSTI), as well most anatomy texts such as Atlas of Human Anatomy (NAS) by Frank Netter, MD. The CST textbook is available for purchase by calling our office at 561.622.4334 or 800.233.5880 extension 2 or online at www.iahe.com
For both course preparation and implementing the material into your practice, we offer a 'CranioSacral Therapy Starter Kit' which includes the following items:
~ CranioSacral Therapy (textbook)
~ Your Inner Physician and You (book)
~ 10-Step Protocol Poster (laminated wall chart)
~ 10-Step Protocol Mini Poster (11.5″ x 9″ double-sided laminated chart)
~ 1-Year Upledger Alumni Association-IAHP Medallion Membership – Medallion Membership benefits are many — including post-course video review of CS1 material.
Starter Kit $120 plus shipping
Total cost if purchased individually $235.95
~ Savings $115.95 (prices subject to change)
ONLINE SHOPPING:
CST Starter Kit: – http://shop.iahe.com/Product-List/Health-and-Wellness/Starter-Kit-
CS1 CSTI: – http://shop.iahe.com/Product-List/Textbooks/Craniosacral-Therapy
IPAY: – http://shop.iahe.com/Product-List/Health-and-Wellness/Your-Inner-Physician-and-You
Supplies:
PLEASE BRING A MASSAGE/TREATMENT TABLE. Due to liability issues, meeting sites may not allow banquet tables to be used as treatment tables. Additionally, treatment tables provide a safer and more comfortable environment for the lab portion of class. We understand some travel may not make massage/treatment table transport possible – when you receive an email from us asking about massage/treatment tables, please simply reply accordingly.
AFTER you sign in and pick-up your name tag at the seminar, set your massage/treatment table in front of the pre-set chairs in the meeting room.
Attire:
Wear loose, comfortable clothing (preferably no jeans.) A light jacket is recommended because temperature can be difficult to control. Due to potential chemical sensitivities of your classmates, please refrain from wearing perfumes or oils to class.
Times:
Registration begins at 8:00 a.m. on the first day of class and a Continental Breakfast will be served. The seminar will begin at 9:00 a.m. each day, except the last day which begins at 8:00 a.m. Subsequent class hours are from 9:00 a.m. to 5:00 p.m. daily, and the last day will meet from 8:00 a.m. to 3:30 p.m.
Class ending times are approximate, and may run late based on class participation.
Meeting Site/Lodging:
Doubletree Suites Charlotte – South Park
6300 Carnegie Blvd.
Charlotte, NC 28211
704-364-2400
www.hilton.com
Group Room Rate: $169.00 single/double
Group Cut-off: September 22, 2023
Link to reservations: https://www.hilton.com/en/book/reservation/deeplink/?ctyhocn=CLTDTDT&groupCode=CDT917&arrivaldate=2023-10-04&departuredate=2023-10-08&cid=OM,WW,HILTONLINK,EN,DirectLink&fromId=HILTONLINKDIRECT
***Booking through our Group Block avoids the extra fees and penalties you will encounter when booking through third parties.***
Directions to Meeting Site:
Please use Google Maps for detailed driving directions.
Uber is available from the airport to the hotel.
The hotel has complimentary parking.
Other:
This course was originally scheduled to be taught by Shyamala Strack, but due to schedule conflicts, will now be taught by Catherine Whelan.
Cancellation/Refund Policy:
Our preference is to have all students attend their class as planned. Plans changing within 29 days of a class start date cause significant and costly implications for our operations to support your planned attendance.
Transfer to a new class date: No fee up until 29 days prior to the class start date.
Transfer to another class 29-15 days in advance: $100 logistics and planning fee.
Transfer to another class less than 15 days of class start date: $200 logistics and planning fee.
Tuition less the applicable logistics fee is non-refundable.
Cancellation of class: Fully refundable more than 29 days prior to the class start date. Cancellations or no shows within 29 days of the class are nonrefundable and are subject to applicable logistics and transfer fees based upon the date of class cancellation or transfer notification received by our home office. Refundable tuition for students in a package program (core-pak or trak-pak) is based on the early registration pricing for the course/online video involved. ASHA Statement of Transparency (required for CEU provider compliance): Other than compensation for presenting, the Presenter has no relevant financial or non-financial relationships to disclose. Refund requests must be made in writing (email to refunds@iahe.com) within 12 months of the registration.